Event Details
A
bout Jeff Miller
Jeff Miller is in demand as a motivational/keynote speaker, and is the author of the 2008, inspirational audio book: "Up From the Under, What We Should Do Next."

Jammin II Inc., is the TV production company responsible for the hit series: "Transition" and "The Edge with Jeffrey Miller"; the documentary, "What's Right, Detroit?" And the 90-minute feature: "Jamaica, Paradise Unrealized." Miller's provocative shows, "Transition" and "The Edge…" reached more than 1 million Michigan homes weekly, (1990-2002) on a distribution network combining broadcast with cable.

Miller's TV productions have earned two Emmy awards, two Cable Ace's and more than ten nominations for outstanding programming achievements, from NATAS and the National Cable Association.

Jeff Miller, executive producer, principal writer and host of Jammin II Inc.'s productions, is also a dynamic radio personality and former columnist for a Metro Detroit newspaper syndicate.

Miller's work from production and distribution, to marketing and talent, has made him an 'in demand' public, keynote and motivational speaker.
PURPOSE OF THIS TELESERIES
: To create a network which will unite individuals and groups to overthrow apathy, ignorance and fear in the Black community by lighting a path all can follow to make the long, tough climb
'Up From the Under'
.
About Dr. Deborah Smith Pollard
Dr. Deborah Smith Pollard enjoys an exciting dual career as Associate Professor of English Literature at the University of Michigan-Dearborn and host/producer of "Strong Inspirations," a contemporary gospel music program that has been heard on FM 98 WJLB-Detroit since 1994.
Pollard, who has lectured internationally on gospel music, has published articles in both academic and popular journals. Her latest research is featured in her award-winning book, When the Church Becomes Your Party: Contemporary Gospel Music (Wayne State U. Press, 2008), which was named a "2009 Notable Book" by the Library of Michigan. She also has her work featured in the anthology: More than the Blues (University of Illinois Press) and Rhythms of the Atlantic (U of M Press, scheduled for 2009).
"Dr. Deb" was named "Gospel Announcer of the Year" during the 2005 Stellar Awards (called "The Grammys" of Gospel). An Emmy Award-winning producer (for "GodSounds" which aired on WDIV-TV Channel 4), Pollard has also produced events, including the McDonald's GospelFest and the Motor City Praisefest, since the 1980s.
A fascinating journey through the controversial changes in the sound, image, and language expressions of African American gospel music that have taken place over the last forty years.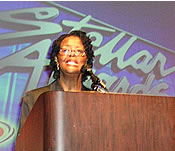 Join the Conversation!
FREE teleseries Every Monday in February at
Teleseries line:
1-218-936-4700